National Programme for the Development
of Humanities
Grant no. 2bH 15 0156 83
Grant title:

'Cultural transfer as the transdisciplinary element of the science of intercultural relations, as exemplified by the impact of Arabic culture on the cultural heritage of Poland'


Hosting institution:

Faculty of Oriental Studies, University of Warsaw

Project duration:

2016-2021

Principal Investigator: Grant Secretary:

Mustafa Switat Ph.D.
Grant description
The researchers focused on various elements, areas, and finds, manuscripts by early Arab travellers, to direct travels by Poles and the memoirs they left, their participation in diplomatic relations with the Arab world, and finally to science, literature, and arts. The project also included studying the role of intermediaries of other ethnic origins in the transfer of the Arabic culture into the Polish culture. The researchers also paid attention to the spiritual sphere, including philosophy, even religion, as well as language and linguistic issues. As one may see, the range of interactions between the Polish and Arabic cultures has been extensive, multidimensional, and multifaceted.
Participants: Prof. Tadeusz Majda, Prof. Jan Tyszkiewicz, Prof. Janusz Danecki, Prof. Ewa Machut-Mendecka, Prof. Marek Dziekan, Prof. Katarzyna Pachniak, Prof. Mieczysława Demska-Trębacz, Prof. Czesław Łapicz, Prof. Jacek Knopek; Prof. Hieronim Kaczmarek, Prof. Joanna Kulwicka-Kamińska, Dr habil. Mateusz Bogucki, Dr habil. Dariusz Adamczyk, Dr. habil. Małgorzata Grupa, Dr. habil. Andrzej Drozd, Dr habil. Tomasz Nowakiewicz, Jacek Adamczyk Ph.D., Beata Biedrońska-Słotowa Ph.D., Krzysztof Gajewski Ph.D., Mikołaj Getka-Kenig Ph.D., Anna Kozak Ph.D., Paweł Libera Ph.D., Marcin Łukasz Majewski Ph.D., Anna Nowakowska-Wierzchoś Ph.D., Magdalena Pinker Ph.D., Małgorzata Redlak Ph.D., Marek Trela Ph.D., Marek Tuszewicki Ph.D., George Yacoub Ph.D., Mykhaylo Yakubovych Ph.D., Mateusz Wilk Ph.D., Bogusław R. Zagórski Ph.D., Karolina Krzywicka M.A.
---
Exhibitions organised in the framework of the grant
in the Asia-Pacific Museum
'Power of Silver. Traditional Jewellery from Arab countries'
7.12.2018-03.03.2019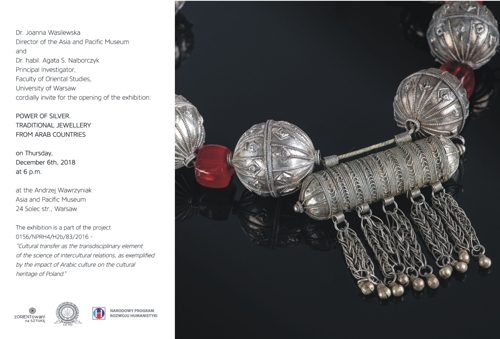 'The Work of Poland-based Artists of Arab descent' 07.12.2018-27.01.2019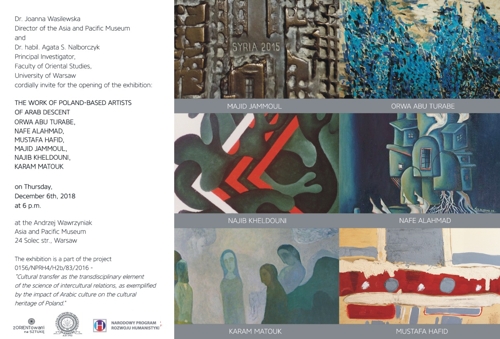 ---
A.S. Nalborczyk, M. Switat, J. Tyszkiewicz (ed.), The First Polish-Arabic contacts
- vol. 1 of the series: Transfer of Arabic Culture in the Polish History
---
A.S. Nalborczyk, M. Switat (ed.), Transfer Links. On the Role of Intermediaries between Arabic and Polish Culture
- vol. 2 of the series: Transfer of Arabic Culture in the Polish History
---
T. Majda, A.S. Nalborczyk (ed.), The influence of Arab culture on the Polish art: handicraft, architecture, and painting
- vol. 3 of the series: Transfer of Arabic Culture in the Polish History
---
H. Kaczmarek, Poles and Egypt throughout the centuries. Writings, journals and travel memoirs
- vol. 7 of the series: Transfer of Arabic Culture in the Polish History